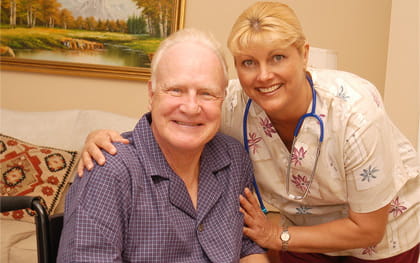 Assisted Living VS Home Care
Once regarded as an ominous topic, long-term senior care has progressed significantly over the last decade. As one begins to age, their independence gradually starts to decline and many will need outside assistance at some point. There are two major options when it comes to securing a safe and stable living arrangement for an aging loved one: assisted living and in-home care.
An assisted living facility offers continuing care for older adults and typically includes housing, meals, medication management, exercise, bathing, dressing, and transportation. While this is a viable option for some, it's certainly not for everyone. People often select this type of long-term care because it's economically feasible, but fail to take into account their loved one's feelings.
In-home care is an excellent alternative to assisted living, allowing elders to live in the comfort and privacy of their own homes while receiving visits from a certified nursing assistant or home health aid as little or as frequently as needed. At Granny Nannies, healthcare providers are available on-call 24-hours a day, 7-days a week, and specifically skilled to cater to your families' unique circumstances.
Choosing The Right Care For Your Situation:
Depending on your loved one's needs, one of these options may work considerably better for your family than the other. However, many adults are torn between making the right decision in terms of living arrangements for their aging parents. In-home care is beneficial for older adults who enjoy the solitude of their own home, but who either have no one to assist with routine errands or an aging spouse who is incapable of tending to them. Perhaps they have adult children or grandchildren living in the same neighborhood and would prefer to stay close to them. Caregivers can provide a wide array of services, from dealing with special needs like Alzheimer's, Parkinson's, or post-stroke recovery, to simply helping combat the social isolation that many retirees experience.
For older adults who live alone and are in need of consistent medical attention and/or assistance with basic tasks, this can often be detrimental. Assisted living offers around-the-clock supervision and security for these situations, as well as access to medical care, should this be necessary. Additionally, many seniors enjoy the social benefits of this type of community, such as shared living spaces, group classes, and field trips.
Weighing The Costs:
The majority of seniors would opt to live at home as long as possible if given the choice. Fortunately, in-home care makes it possible for them to do just that. As a general rule, if more than 40 hours a week of in-home care is required, assisted living is usually a cheaper option (albeit, this can vary from state to state). Nevertheless, there's no denying that the benefits an aging adult would reap through this advantageous service are well worth the cost - you simply can't put a price tag on comfort!
Only you and your loved one know what's best for your situation. You should thoroughly assess the pros and cons of each option and talk with your aging parent before making a decision that will vastly impact their future. While researching and understanding the differences between an assisted living facility and in-home care is crucial, it is ultimately a personal choice.
---
Have questions?
We are here to Help! Call (800) 316-2669 for a Free home care consultation or complete our home care request form to be contacted by a home care specialist.