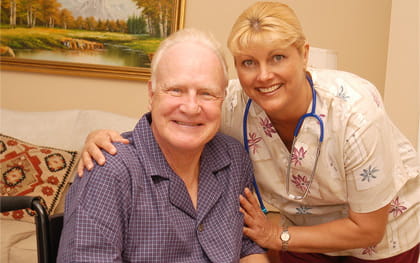 General Senior Home Care Services Venice
Senior In-Home Care Services provided by professional caregivers 24-hours a day in the comfort of home. Everything from short-term home care to long-term home care or something in-between, Granny NANNIES of Venice can help in any circumstance. Call (941) 870-7234 for your Free senior home care consultation.
Did you know?
Eighty percent of elderly people have one or more chronic health conditions or illnesses that require long-term care.
How Senior Home Care can help?
Living at home is essential in ensuring your loved one's comfort but sometimes specialized assistance is needed. Certified Nursing Assistants and Home Health Aides bring nursing home care to them. Private duty caregivers specialize in the assisted living of aging seniors and have the expertise, compassion and patience to keep your loved one happy. Hospice, Oncology, Alzheimer's and Parkinson's care are just a few of the services included in senior home health care.
Senior Home Care examples can include:
Hygiene Care:

Caretakers help with bathing and other hygiene needs.

Social Interaction:

Caretakers can help keep your loved one happy and social with various recreational activities.

A Helping Hand:

A caregiver can assist with housekeeping, meal preparation and medication reminders. They can also serve as transportation for your loved one, taking them to and from their doctors' appointments. But above all, a caregiver will be their companion during their times of need.

Emotional Support:

Caretakers can help keep you and your loved one in high spirits.

Accident Prevention:

Caregivers can focus on reducing the risk of accidents and encourage safe, independent at-home living.
---
Have questions?
We are here to Help! Call (941) 870-7234 for a Free home care consultation or complete our home care request form to be contacted by a home care specialist.