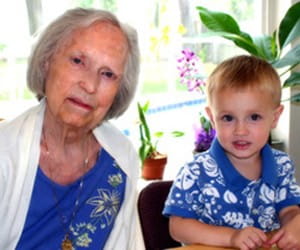 About Granny NANNIES of Port Charlotte, FL
Granny NANNIES of North America was founded in 1990 by Rob and Kirsten Hodgson due to their own personal struggle of trying to find quality and affordable caregivers for a loved one. Since then, Granny Nannies has grown into a global franchise opportunity for others who recognize the need and value of providing quality and affordable in-home care for others.
Rosa Benghtt is one of these amazing individuals who wanted to make a difference in her community. Rosa opened the Granny Nannies franchise serving Charlotte and DeSoto Counties in 2007. Rosa, a native of Honduras, started her career serving others as a CNA in NY and later in Clermont, FL, before taking the entrepreneurial leap into business ownership with Granny Nannies. Rosa has built a strong and growing business based on her commitment to serve others with, "A Helping Hand and a Gentle Heart." Rosa is a very active member of the Charlotte County community and "gives back" through both volunteering her time and her resources. As a member of the Punta Gorda Chamber, Granny Nannies won "Large Business of the Year" in 2016 and continues to make a lasting difference in the lives of families, its clients, and the community at large.
Today, Granny Nannies has a team of 6 (including Rosa) working in the Office and approximately 90 certified CNA's and HHA's as caregivers. Granny Nannies serves anywhere from 80-100 clients on a weekly basis and prides itself on providing incredible service at affordable prices. Granny Nannies serves all of Charlotte and DeSoto Counties as well as Englewood and Boca Grande. Granny Nannies provides non-skilled nursing Health Care in client's homes.
Rosa continues to be a very "hands-on" leader for Granny Nannies. She is loved by all of her staff due to her generous and kind heart. Rosa's vision for the future includes Granny Nannies growing and becoming better at serving those who are in need. She would also like to start a "nonprofit" focused on disrupting generational poverty through engaging, educating, and empowering women who have been victimized by domestic violence in Honduras.
If Rosa's success has anything to do with the size of her heart and her commitment to serve others, then she has not even gotten started! Great days are ahead for Granny Nannies as the need for exceptional care at affordable prices continues to grow. Granny Nannies also serves as a tremendous community resource for those going through the aging process as well as a resource for their families. Having been in the community for 11+ years, Granny Nannies has built relationships with a variety of Senior Resources and would be happy to assist you with whatever questions or problems you may be facing.
You can always reach out to Granny Nannies knowing that there will always be, "A Helping Hand and a Gentle Heart" available to assist you.
---
Have questions?
We are here to Help! Call (941) 743-7606 for a Free home care consultation or complete our home care request form to be contacted by a home care specialist.