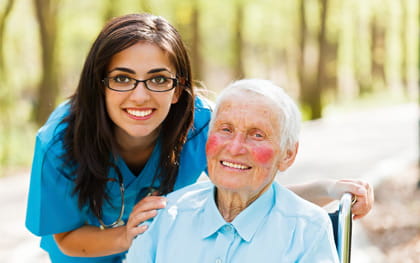 Parkinson's Home Care Palm Coast
Parkinson's Home Care Services by professionals who specialize in Parkinson's care, are available 24-hours a day to provide home care in the comfort of home. Granny NANNIES of Palm Coast can help in any situation. Call (386) 447-6551 for your Free Parkinson's home care consultation.
Did you know?
Nearly one million people are living with Parkinson's disease, making it the second most common neurodegenerative disease.
What is Parkinson's disease?
Parkinson's disease is a movement disorder that develops gradually over time. This disease is often associated with tremors, but also commonly causes stiffness, slowing of movement and slurred speech. The symptoms of Parkinson's are chronic and progressive, worsening over time. Simple daily tasks may become difficult for a person living with Parkinson's disease.
What can Parkinson's Home Care do to help?
Your loved one may require assistance in order to stay healthy and independent. Continually adapting to day-to-day processes is demanding and a Certified Nursing Assistants (CNA) or Home Health Aides (HHA) can help make the gradual transition as easy as possible by carefully monitoring your loved one.
The main focus of a caregiver is to provide assistance for your loved one as they adapt to limited mobility.
Parkinson's Care can focuses on:
Supervision:

Caretakers can supervise and assist your loved one as they walk, helping to avert accidents.
Caretakers can perform light housekeeping tasks and make sure obstacles are out of the way.

Meal preparation:

Eating and preparing meals can be difficult when dealing with Parkinson's disease. CNA's and HHA's can help in meal preparation and assist with feeding during tremor episodes. Caretakers also make sure your loved one stays hydrated by offering fluids for thirst relief caused by any medications.

Exercise:

Caretakers can help your loved one complete mobility exercises that their doctor may require.
---
Have questions?
We are here to Help! Call (386) 447-6551 for a Free home care consultation or complete our home care request form to be contacted by a home care specialist.