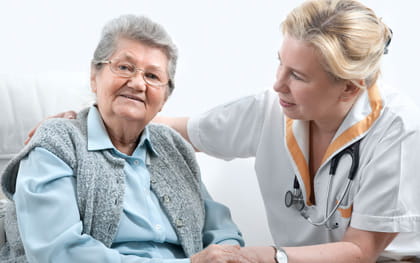 Choosing the Right Home for Your Loved One with Alzheimer's Disease
Alzheimer's Disease is an increasingly prevalent form of dementia that nearly fifty percent of adults over the age of 85 experience. The disease not only causes progressive symptoms in the person afflicted, but can cause destabilization in a family system due to intimidating role changes and new challenges.
It is not easy to deal with Alzheimer's, but as a leader in Alzheimer's care assistance spanning across the country in several states, Granny Nannies is dedicated to help you understand how you can make the right decisions in Alzheimer's care for your beloved spouse, friend, or relative.
An Alzheimer's Diagnosis Can Be Overwhelming
When a loved one is diagnosed with Alzheimer's Disease it can be overwhelming. Beyond having to learn how to cope with a new and daunting prognosis, it is a hurdle to figure out how to provide your loved one with the best care that will fit their specific needs. Sometimes the needs of caregiving can surpass the ability of home health aides and other options need to be explored.
Ideally, being able to keep your loved one at home through the duration of their disease is usually preferable. Sometimes the care and responsibility involved can be too much and finding a professional Alzheimer's care facility is the best option.
It is never easy to separate from a friend or family member, but it can reduce the burden or separation when you make sure your loved one is receiving the best care possible. There are a variety of residential care options available including retirement homes, nursing homes, assisting living facilities, Alzheimer's special care units (also known as memory care units), and continuing care retirement communities.
Granny Nannies Can Help You Through The Alzheimer's Care
Granny Nannies believes in the importance of being informed so you can make the right choice. We have created a shortlist of services you should seek when looking for a senior home. It is important that a senior home has a range of all-inclusive services so you know your loved one is happy and healthy in good hands without having to stress or worry.
Key services to look for include:
Professional caregivers on duty around the clock
Fun activities that provide an outlet to socialize
Companionship programs
Housekeeping in the living space
Meal preparation
Memory stimulation provided to patients
Option of mobility assistance
Medical professionals on staff
Transportation so your senior loved one can get to and from their important doctor appointments
Other details to keep in mind:
Desired proximity to home
Family visiting hours that work with your schedule
Facility's dedication to increase stabilized conversation and decrease stress, agitation, and wandering
The reputation of the Alzheimer's facility and their preparedness to help in every stage of Alzheimer's Disease
Ability to assist with other special needs or health concerns (ex. heart disease, cancer, other illness)
Affordability that suits your own budget
Variety of outside resources available
Choosing the right home can give you security and comfort, but it is not always easy. If you have any questions about care for your loved one, please call us today.
---
Have questions?
We are here to Help! Call (386) 447-6551 for a Free home care consultation or complete our home care request form to be contacted by a home care specialist.