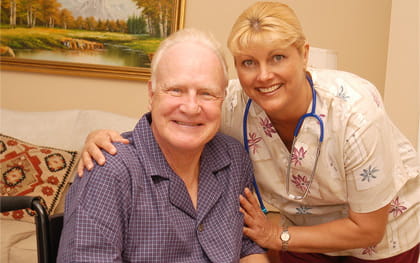 Senior Home Care Services Orlando
Senior In-Home Care Services are provided by professional caregivers' 24-hours a day throughout Central Florida. Seniors in need of home care in the Orlando, FL area can call (407) 682-7758 for a Free Senior Home Care consultation.
Did you know?
Eighty percent of elderly people have one or more chronic health conditions or illnesses that require long-term care.
How can Granny Nannies of Orlando, FL help?
Living at home is essential in ensuring your loved one's comfort but sometimes specialized assistance is needed. Certified Nursing Assistants and Home Health Aides bring nursing home care to them. Private duty caregivers specialize in the assisted living of aging seniors and have the expertise, compassion, and patience to keep your loved ones happy. Hospice, Oncology, Alzheimer's, and Parkinson's care are just a few of the services included in senior home health care.
Senior Home Care examples can include:
Hygiene Care:

Caretakers help with bathing and other hygiene needs.

Social Interaction:

Caretakers can help keep your loved one happy and social with various recreational activities.

A Helping Hand:

A caregiver in Orlando can assist with housekeeping, meal preparation, and medication reminders. They can also serve as transportation for your loved ones, taking them to and from their doctors' appointments. But above all, a caregiver will be their companion during their times of need.

Emotional Support:

Caretakers can help keep you and your loved one in high spirits.

Accident Prevention:

Caregivers can focus on reducing the risk of accidents and encourage safe, independent at-home living.
Benefits of Senior In-Home Care
There are a myriad of benefits senior in-home care offers, one of the most pivotal beings that it allows for aging adults to receive high-quality care in the luxury and privacy of their homes. Other advantages include:
Maintaining a sense of comfort and independence:

Many seniors don't want to deviate from a life they've become accustomed to, a house they've fashioned into a home, or the familiar neighbors they've resided alongside for years. Additionally, studies have proven that older adults tend to heal better in the comfort of their own homes.

One-on-one personalized care:

An in-home care provider can provide quality and affordable individualized care when it is needed, and as often as needed.

Economically feasible:

While assisted living facilities require you to pay for room and board costs, in-home care does not, as you're being tended to in your own home.

Socialization:

In-home care allows seniors to maintain a healthy level of social interaction, especially if they have an ailment that restricts them from getting out of the house frequently.

Peace of mind:

Caregivers are exactly what their name implies – compassionate, trustworthy individuals who are committed to taking care of patients and treating them with the utmost level of respect and dignity.
Things To Consider When Caring for Elderly
When you factor in the day-to-day responsibilities of your average adult, including working, taking care of children, and running tedious errands, providing care for your aging loved one can be time-consuming and exhausting – both physically and mentally.
A good home health care provider will take into consideration the specific needs of each individual, and curate a customized plan tailored to suit adequately them.
Granny Nannies specializes in an array of in-home care services, including but not limited to:
Alzheimer's Care
Fall Prevention Care
Heart Disease Care
Hospice Care
Respite Care Relief
Stroke Recovery Care
It's critical to maintain the quality of one's life, whether young or old. In-home care offers a safe and affordable solution to those who are recovering from an ailment, those who have special needs, or those who simply need assistance with routine activities like bathing, dressing, meal preparation, and medication management.
Granny Nannies Is Here To Help you with the Care of Your Loved Ones
Granny Nannies of Orlando is committed to helping you with a cost-efficient, trustworthy, professional In-Home Care solution for you and your loved ones. We understand that deciding which long-term home care options to pursue can be a challenging experience; we are determined to make the process as smooth and easy as possible. Call (407) 682-7758 to discuss the numerous affordable, in-home care services available 24-hours a day for seniors by professional caregivers.
---
Have questions?
We are here to Help! Call (407) 682-7758 for a Free home care consultation or complete our home care request form to be contacted by a home care specialist.