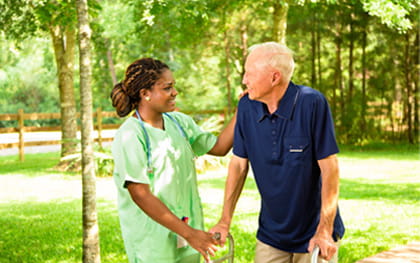 Fall Prevention Home Care Crestwood
Fall Prevention Home Care Services by professionals who specialize in Fall Prevention assistance are available 24-hours a day throughout Crestwood, KY to provide home care in the comfort of home. Seniors in need of Homecare in Crestwood can call (502) 454-9134 for your Free home care consultation.
Did you know?
According to the U.S. Centers for Disease Control and Prevention, an elderly adult enters the emergency room every 15 seconds for a fall-related incident.
Why is fall prevention important?
Falling is the leading cause of injury in adults over the age of 65. Injuries from falling may not be noticeable at first, but failure to recognize symptoms can be potentially fatal. Injuries often inflict physical and emotional pain for the patient, with recovery time lasting up to a year in a rehabilitation center or long-term care facility. When an elderly person falls, the pressure from being on the floor for an extended period of time can result in kidney failure and worsen other chronic diseases.
How Fall Prevention Home Care can help?
Most falls happen because of loss of balance. Patients may have neglected the use of a walker or other assistive device and fallen as a result. Caregivers focus on reducing the risk of injury and frequency of falls to encourage safe, independent at-home living.
Fall Prevention Care examples can include:
Exercise:

Range-of-motion exercise improves muscle tone, strength and endurance.

Safety and supervision:

Fear of falling is a common anxiety among seniors. Caregivers are there to safely aide patients while walking or getting up from a chair.

Medication reminders:

Taking prescription medications on time can be a key factor in the health of your loved one.
---
Have questions?
We are here to Help! Call (502) 454-9134 for a Free home care consultation or complete our home care request form to be contacted by a home care specialist.