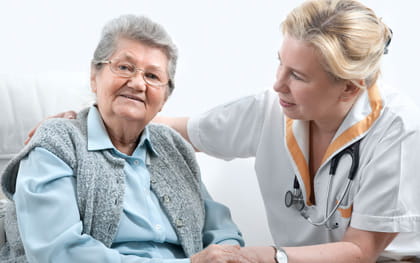 Alzheimer's Home Care Naples
Alzheimer's Home Care Services by professionals who specialize in Alzheimer's care, are available 24-hours a day to provide home care in the comfort of home. Granny NANNIES of Naples, FL can help in any situation. Call 239-277-7188 for your Free Alzheimer's home care consultation.
Did you know?
According to the Alzheimer's Association, an estimated 6.2 million Americans age 65 and older are living with Alzheimer's dementia in 2021.
What is Alzheimer's Disease?
Nearly half of all adults over the age of 85 are living with Alzheimer's, a form of dementia that inhibits a person's memory, thinking and behavior. This memory disorder worsens over time and can be severe enough to interfere with daily activities. Alzheimer's often places stress on both the patient and their family and can leave the patient feeling isolated.
How Alzheimer's Home Care can help?
Making sure your loved one receives the care they deserve is at the top of our to-do list. Granny Nannies offers you the aid of professionals who specialize in Alzheimer's care and are qualified to support Alzheimer patients in some of the following examples:
Memory stimulation:

Brain games, such as crossword puzzles and word searches are proven to help stimulate the mind. A caregiver can spark conversation with the patient in topics that are interesting and meaningful to them.

Meal preparation:

Caregivers are experienced in addressing dietary concerns, including diabetes, food allergies and chewing ability. Caregivers' can serve patients' meals exactly how they like and make sure they stay hydrated.

Mobility Assistance:

In the advanced stages of Alzheimer's a patient's ability to walk or stand may be hindered. Caregiver's can help patients stand on their own two feet in a familiar environment, their home, and assist in moving them from one place to another.

Alzheimer's Education:

Alzheimer's disease occurs in seven stages and your caregiver can help to educate you on the facts and information.
Benefits of Alzheimer's care include:
Stabilized conversation skills

Reduced wandering

Decreased agitation and stress
---
Have questions?
We are here to Help! Call 239-277-7188 for a Free home care consultation or complete our home care request form to be contacted by a home care specialist.