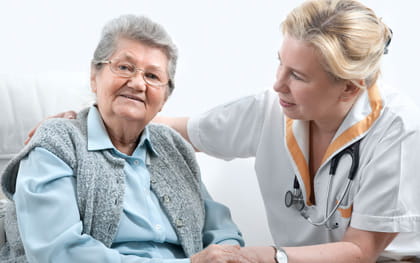 Early Signs of Alzheimer's Disease
As a family member ages, memory lapses can be a normal part of getting older or an indication of something more concerning. Trying to understand if your loved one's behavior is part of the natural progression of aging or if it is indicative of something more pressing can be a challenge.
Alzheimer's is a form of dementia. It is progressive and compromises mental functions. It is not curable but there are some treatments that may help. We are here to assist those with Alzheimer's and understand the complexity of caring for someone with this disease.
Granny Nannies understands the difficulty of understanding early signs of Alzheimer's as well as the importance. We can assist you with expert Alzheimer's Care and want you to know the early signs of Alzheimer's so you can be well-informed and prepared should you need our assistance.
Forgetfulness can be common, like momentarily forgetting what day of the week it is or briefly misplacing car keys. A clear distinction between a true concern with memory or being a little forgetful is that with normal aging, whatever is forgotten can be later recalled. For example, you may forget a co-worker's last name but can remember it later in the day.
Some cognitive abilities that are unchanged, even by normal aging, are the ability to perform tasks you have always been able to do like simple math, knowledge you have from experiences and education, common sense, and reasonable judgment. If someone is having issues with these four key abilities, it might be a cause for concern.
A key factor to recognizing when memory issues become more concerning is recognizing when poor memory starts to interfere with your loved one's daily life. It is important to be able to differentiate your loved one's memory loss from early signs of Alzheimer's or the typical aging process.
Alzheimer's Warning Signs
According to the Alzheimer's Association, the following are the ten main warning signs that indicate a person may have Alzheimer's:
Memory loss
Problem-solving challenges
Inability to complete tasks
Confusion with time and places
Trouble with vision and judging distance
Difficulty with words and speaking
Losing or misplacing belongings
Poor judgment and lack of being money conscious
Withdrawal from hobbies and activities
Changing and erratic moods
Some other associated systemic symptoms that are outside of memory loss include loss of appetite, restlessness, hallucinations, paranoia, aggression, repetitiveness, and poor muscle coordination. These are not necessarily symptoms that lead to diagnosis but may happen due to Alzheimer's.
A doctor may be able to help by diagnosing your family member with Alzheimer's. Specialists including, psychologists, neurologists, psychiatrists, and geriatricians can provide specific assistance. Early detection, treatment, and action can be very beneficial for those affected by Alzheimer's.
If you notice these behaviors that are consistent with Alzheimer's in someone you know, we are here to help by providing support and services.
If you have any questions about care for your loved one, please call us today!
---
Have questions?
We are here to Help! Call (561) 417-9272 for a Free home care consultation or complete our home care request form to be contacted by a home care specialist.